This week, EVA Global employee Zakariyya Haque, from our Customer Support team, was recognized with a Verdane Talent Award under the category Respect People and The Planet: diversity, equity, and inclusion initiative. This award was achieved for having made a considerable effort to promote equity and inclusion in their workplace or industry, creating impact, and setting a leading example for others to follow. 
Over the past year, Zakariyya and his colleague Anna Ciani were essential in helping launch EVA Global's international sign language service. This included planning of the new service offering, which assists drivers in international sign language using a video call. In addition, Zak and the team took a leading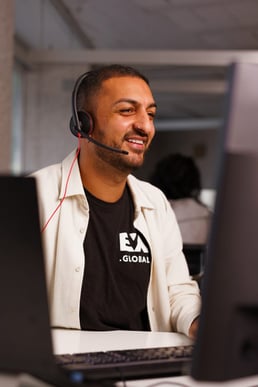 role in planning, executing, and showcasing EVA Global's commitment to increase inclusion and accessibility for electric vehicle adoption and to building trust in the new charging technologies. 
"I believe showing inclusivity is to have representation from all backgrounds, whether gender, religion, or ethnicity, ready to foster cultural exchanges. Understanding can only lead to respect, and then inclusion comes naturally." - Explained Zakariyya when sharing his thoughts on the Verdane honor. "I have two hearing-impaired cousins in Egypt, and I have always seen them struggling to communicate within the family due to the lack of awareness and resources. So my first thought was this is something different to participate in. Sometimes going outside your comfort zone to become stronger and grow is a way to improve. Effort is key."  
When Zak joined EVA Global in 2021, he stood out during his training as a perfect match for the EVA team, becoming a cultural ambassador for EVA's mission for superior customer experience from the front lines. Zak's passion for diversity, equity, and inclusion come about in every aspect of his daily work as a dedicated Customer Support Technician who goes beyond every necessary step to ensure no driver is left stranded with their electric car.  
"I'm a firm believer that being different doesn't make you less important - but rather unique. In fact, I have a belief model; that effort turns into understanding, which turns into respect, which equals inclusion. Zakariyya shared. "When I was a child, I was naturally encouraged to learn sign language with my family, seeing that my cousins didn't let their disability affect them was inspiring." 
Zak explained further, "In light of the above, it was natural for me to volunteer in this project, Anna Ciani, and myself studied and worked hard memorizing the sign language script. As neither of us are not hearing impaired, it was important for us to give a realistic performance. It was a relief when our instructor gave us the thumbs up to say we had nailed it. It was amazing to see the cast and crew of EVA pull together quickly to be the voice of the customers and to remind everybody that each customer is different but especially unique."