Thank you Maciej Mazur, Managing Director of the Polish Alternative Fuels Association - PSPA and Vice-President of AVERE! In this interview, Maciej shares details on the impressive projects worked on by PSPA to develop sustainable, zero-emission mobility in Poland, as well as a comprehensive analysis of the result of the Fitfor55 package in accelerating emobility across Europe… and much more!
Can you tell us about yourself and how your career in e-mobility kick-started?
It's a pleasure to be able to speak to you and share our Polish perspective on the e-mobility revolution. I'm the managing director of PSPA and the vice-president of Avere, the European Association for Electromobility. Before that though I worked in corporate affairs and played a number of senior roles in the energy sector. I was always very interested in environmentally friendly innovation and responsible habits.
So as of 2016 my mind started shifting towards the road transport sector and using my skills to accelerate electromobility and new mobility solutions in Poland. This is how the idea of PSPA was founded and the rest is now history. One full of exciting challenges and thrilling projects.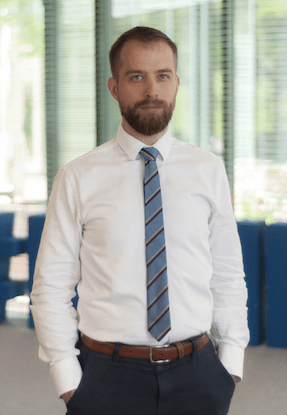 How did PSPA come to life?
PSPA, or the Polish Alternative FuelsAssociation was founded in 2016 – it was founded by a group of e-mobility and sustainable transport enthusiasts. At that time the discussion regarding this topic was rare in Poland and there were not many NGOs at the time, to fully engage the entire e-mobility value chain. We decided that a joining point for Polish and foreign players on this market was needed and launched our organization to fill this niche.
Can you tell us about PSPA's role and impact in the e-mobility space?
With 140 members at this point we are the largest organization in Poland and one of the leading Central and Eastern European industry NGO's. We implement close to 100 projects annually, including training and consulting programs, TCO analyses, publications, position papers, awareness-building programs, large-scale industry events and many others. We work with everyone involved in the e-mobility value chain in Poland, which includes companies from the automotive, energy, financial and other sectors. Moreover, we also work with international and diplomatic institutions. We are very often cited by media outlets and experts who comment on the state of this market, while also being featured as speakers at numerous industry events.
We are also currently implementing the Elektromobilni.pl campaign (Electromobile Poles) which is one of the biggest awareness building campaigns to date – at least in Poland. It provides not only the theoretical and information base for both those who are already part of e-mobility, but also those who wish to join the revolution. As part of this campaign, we provided an assortment of tools and interactive applications for the wider public to verify the knowledge we provide and to verify what e-mobility has to offer for them personally. The campaign also entails the Polish EV Club, a feature which brought together over 1300 users in just the first half of 2021 and many interested parties from abroad. It provides a platform for EV users and enthusiasts to connect and exchange data, which we can also invoke in our research and analysis projects. I think this shows that our motto, that we drive thee-mobility market, really reflects our activities.
Who are PSPA members today, and who is missing to make it stronger?
Our members consist of the stakeholders on the Polish market who are involved in developing e-mobility and sustainable transport. This included companies from the automotive industry and electric vehicle charging infrastructure. In addition to this, there are companies which are involved in energy production and distribution, as well logistic companies, and big retail networks. On top of this, we associate financial companies and leasing providers who support the implementation of financing for the development of the market.
I would not go as far as to say that there are stakeholders missing, as 140 members are really a large portfolio, which actually inspired a compartmentalized process of shaping our recommendations and activities by splitting the entire membership into 10 topic committees which can discuss focused, topic-oriented issues and shap every precise recommendations for the market. Each member can be a part of two of our committees and hence, they can see very tangible benefits from working with us. An area that we wish to further develop is the battery sector.
Poland has a real chance of becoming a battery hub for the EU, perhaps even globally. We already have the largest manufacturing plant and boast many component producers as well, making this market amongst the top five in the international battery industry. Soon Poland will also host a recycling facility for vehicle batteries and therein arises the opportunity for Poland to be a full life-cycle market forEV batteries. Therefore, we wish to broaden our portfolio by beginning to work with battery, battery component manufacturers and battery recycling organizations. We do not intend to limit ourselves, but surely this is a new and certainly not last direction that we want to expand in.
H
ow do PSPA partnerships work together to propel the e-mobility movement in Poland

?
We implement many projects with our partners and Member Organizations. In cooperation with Polish local authorities, we've been implementing the "E-Mobility in practice" training program, wherein we've trained over 1,500 Polish officials from over 50 Polish cities. All leading automotive brands cooperate with the organization and charging points belonging to PSPA partners cover approx. 90% public EV charging stations in Poland. We actively cooperate and have binging LOI's with 30 of the largest cities in Poland, as well as renowned consultancy companies and law firms.
As part of an extensive network of partnerships, PSPA also cooperates with many industry- and social organisations, building broad support for initiatives and projects. We publish over 20 focused reports each year. Our e-books have already reached over 50,000 people. The "Polish EV Outlook", "New Mobility Barometer", "Catalogue of electric vehicles" – these are just some of periodical publications that premiere each year. As part of its publishing activities, PSPA covers a wide range of topics, including an analysis of the EV charging station permitting procedure, the Act on Electromobility and Alternative Fuels or good practices resulting from the electrification of public transport in Europe. As part of the developed E-mobility Identification System for Poland, PSPA submitted over 50 proposals for e-mobility-related graphic solutions, including vertical and horizontal road signs – which are now processed to become public law.
As part of the White Book on E-Mobility we work with nearly 200 industry partners and have shaped 50 strategic legislation recommendations, some which became implemented as law, like the e-tariff for EV charging operators. Together with industry partners, PSPA also implements pilot projects, such as "Zero Emission Mission", "Fleet with Energy" or "ELAB – City of CleanTransport". For many weeks, PSPA experts have studied the Total Cost of Ownership (TCO) of electric and conventional vans in actual in-use conditions. For this purpose, they have already covered the distance of 24,000 km, also achieving the planned ecological effect. So, as you can see, we exploit the opportunities of our partnerships and cooperating entities to the fullest extent, actively driving the e-mobility market in Poland.
Can you tell us about Poland's prog
ress in developing e-mobility country-wide and what actions are required t

o continue this progress?
Our market is presently at an early, infancy phase of developing e-mobility. But this factor makes this market even more exciting both for Poland, as well as the Central-Eastern Europe region. This creates opportunities and brings forth challenges. We can learn much from the markets, where e-mobility is more abundant and functional, like Western and Northern Europe. It appears, that we have the chance to implement their best practices and lessons, of what should be omitted.
As of June 2021, we have a car park of 26985 EV's and expect to have nearly 5,000 charging points this year. At the same time, based on our own calculations which are formulated on data collection, market surveys and our own studies, we expect to have over 500,000 EV's (both BEV and PHEV) by 2025, along with 48,000 charging points. We use this data to show the potential of the market and how it will expand in just 4 years. There's also an observable rise in the involvement of Polish local authorities and municipalities in accelerating new mobility in Poland, which deserves high appraise. These trends also include business organizations which also develop their vehicle fleets towards a zero-emission model and phasing out ICE's. As nearly 70% of the vehicles in Poland are company cars, this is an important component of our pursuit of fully electric road transport. I hope that this reflects the opportunity ahead of Poland, but I must emphasize that it is also linked with many challenges and efforts still needed to achieve our goal. This includes all groups of stakeholders involved: business, academic circles, NGO's and public administration.We see our role, as a leading industry organization to coordinate those efforts and bring Poland on to a road towards zero-emission transport.
"We are seeing a growing interest




in electromobility and micromobility




withing municipalities in Poland."
How has the pandemic impacted mobility in general, as well as the e-mobility movement specifically, in Poland?
The COVID-19 pandemic affected the automotive industry severely, but it actually showed an increase in terms of EV sales and registrations. This was a very positive sign for us and the sustainable transport market. For Poland it seems that e-mobility is now flourishing, the topic is widely discussed and featured in the media discourse, as well as major economic events. A financial subsidy program was launched just in July, to support EV acquisition. This program was implemented after the lessons learned from pilot initiatives which were introduced two years ago. We now observe many new models of EVs being introduced to the market by OEM's and we see the consumer's response. Current analysis shows that the economy is coming back up after the fallback of the pandemic and the e-mobility has great potential now. However, this must be supported by action taken by the public administration in cooperation with market players and we believe that the impulse for this was provided amongst others by the "Fit for 55" package proposals and the rapid growth of EV's in the portfolios of car manufacturers.
In your view, what are the biggest challenges we need to overcome to progress e-mobility across Europe?
Surely, one of the biggest challenges for the EU as a whole is the implementation of the regulations entailed in the "Fit for 55" package, as well as the European Green Deal and Smart Mobility Strategy. This is an EU-wide challenge, but there are other areas which need a rapid response in terms of policy and business involvement. We see large discrepancies in the development of the Western and Northern European States and their counterparts in our region, including Poland.
This creates the phenomenon of a "two-speed" Europe, bound by the same regulations and targets, but advanced differently. This is why the legislation must present ambitious goals – which the new EU package does – and motivate the CEE region to accelerate its progress in pursuing e-mobility. Only then can we share our strategies across the continent and really work together to achieve goals like no ICE registration after 2035, per the proposed legislation package. This is also why we decided to launch the CEE Green Transport Initiative with the support of the Slovak EV Association. It's a project dedicated to support these processes of bringing our region up to speed in developing electric road transport. It's also part of my work as Vice-President of Avere.
What do you believe consumers most want to see develop within the e-mobility market over the next 10 years?
There are many elements here, but surely the technological solutions to overcome range anxiety are amongst the top expectations. The BEV's are fitted with increasingly more enduring batteries and their ranges are expanding rapidly. This must be doubled by a rapid expansion of the EV charging infrastructure and the availability of charging points. Technologies like V2G which will enable a more efficient way of charging vehicles and stabilizing the grid, as well as power supply will also play a major role. All this connected with the purchasing parity of EV's can be listed as the top issues to be developed in terms of e-mobility. Many consumers are still having trouble with the prices of electric cars and this is a factor which shapes their choices. Here, the public administration can respond by introducing bonus policies like subsidies and incentives (also for ICE scrap page) and malus policies like environmental taxes for ICE vehicles. From the consumer side, range anxiety solutions and charging point availability will definitely be at the top of the list, because the design and attractiveness combined with the joy of using EV's is already there.
What "trends" do you see happening within the Polish e-mobility ecosystem at this time?
For some time now, there has been much verbal support from the Polish public administration. We see this slowly being transformed into policies and strategies on the national level. This will surely be enhanced by the on-coming EU legislation. As you know Poland has many challenges which are indirectly linked with our market. We are amongst the most polluted EU countries, with 29 of the top 100 smog-polluted cities being in Poland. In addition to this, our market imports used, very old vehicles from more developed countries.
In November 2020, the average age of imported vehicles was 11.89 years, which. was a historic record. 48% of the imported vehicles run on diesel powertrains, so this adds to their polluting effect. These are the challenges, and the trends seem to slowly respond to them. We are seeing a growing interest in electromobility and micromobility withing municipalities in Poland. Our campaigns Elektromobilni.pland the EV Club Poland show increasing numbers of stakeholders getting involved every week. Manufacturers are also expanding their portfolios with new EV models and the Polish State is introducing incentives to facilitate their acquisition. A lot must be done though, to improve the process already in place and develop new mechanisms, for example in EV charging infrastructure in Poland.
As I frequently repeat, we are becoming a serious player in terms of the battery market and this trend may prove to be strategic in terms of providing jobs in the e-mobility sector in the future, when the traditional automotive sector begins to diminish.
In you
r view, how can different actors (industry, governments, etc) work together to further promote EV adoption in Poland?
We try to present this view in our actions and projects. This work is needed on many levels and in numerous types of activities. Firstly, it must be clear that the process requires all sides of the equation. The public administration should shape smart and adequate legislation, but it must be provided with knowledge and experience from the business side, as well as sound opinions from the world of science and experts. Organizations such as ours are vital in facilitating this flow of necessary components. The media are also very important in disseminating substantive information regarding e-mobility, in order to promote it and attract more stakeholders to get involved, most importantly, the public opinion – the everyday consumers. Again, our role here is very important to be a partner for the media, as a source of good information and to provide access to those stakeholders, who are actually shaping the market. All this must be driven by ambitious strategies and policy, also motivated by the signals coming from the European Union. Again, as PSPA, we try to ensure that the mechanism runs well and the development of e-mobility becomes as robust as it should be.
Lastly, can you tell us where you expect Poland will be on "the emobility road" by 2025?
We have forecasts that we shape on the basis on the data we collect and the information we receive from our partners and Member Organizations. Some of the mare published in our many reports and analyses, but our general approach in terms of predicting the market in the future are entailed in the Polish EV Outlook which we issue annually. We present three scenarios based on the context of e-mobility development. A pessimistic one, where little is done to support this process in terms of policy and driving innovation. An optimistic one, which assumes that the market, experts and public administration come together in the best possible way to pursue the goal of establishing zero-emission transport.
Lastly, the realistic scenario which we refer to most often, which presents a credible picture, where the public administration responds to the market challenge with rational policies and some strategic support (incentives, bonus/malus policies, subsidies etc.) and innovation grows in local capacities. In terms of numbers, this realistic scenario shows that in 2025 Poland will a have a fleet of over 300 000 BEV's and over 200 000 PHEV's, with over 48 000 EV charging points. This will mean that there will be 10.8 EV's per 1 public EV charging station. That data is positive and we strongly believe that it is achievable. Moreover, by that time we should expect that the differences between our region and the "Old EU" will be somewhat balanced out. However, we must note that this perspective is now in a little over 4 years, so we really have a lot of work to do.